Amanda D. Wedding 04/09/2022
The best DJ & MC I have seen DJ John Harper at many events and knew I wanted to hire him for our wedding festivities. He did a fantastic job at both our rehearsal dinner and wedding! He had a meeting with us early on and showed us a site where we could pick songs. We only picked a few of our favorite songs and let him read the crowd and fill in the rest. He is very experienced, so he knows most of the venues/vendors which is very helpful. He is also a wonderful announcer/MC, so he did a great job doing the wedding party intros etc.
Erin F. Wedding 10/15/2022
John was fantastic to work with from the start! His passion for music and getting people on the dance floor is contagious. John was so easy to work with and offered a TON of great insights and advice to help make our event everything we wished it to be! He is so accommodating and is able to act quickly and adjust course when needed. I absolutely recommend John for any event
Emily Wedding 09/10/2022
Music was one of the most important aspects of our wedding. We wanted as many people on the dance floor for as long as possible during our reception. John absolutely knocked it out of the park with providing a steady stream of great music and a fun atmosphere. We trusted John's judgment with song selection 100% and absolutely recommend that you work with him for your big day. We and our guests loved every song that he played and danced until the venue closed down.
Jessica M. Wedding 06/11/2021
Got the Party Going! John Harper made the party happen at my wedding! He was a wonderful emcee and kept the tunes bumping all night long. Everyone from my wedding talks about how much fun they had dancing all night long. I knew it was going to be a good party when the dance floor was full (and there was an impromptu dance floor on the other side of the venue) all before dinner was even served! Definitely recommend
Cathy : Wedding 05/20/2019
Highly recommend! John was extremely helpful in planning for and conducting DJ services for our daughter's wedding. She had to plan from long distance, and without a clear idea of what she and her fiancé wanted. John really listened and had terrific recommendations for music choices, and at the reception he really "read the room" perfectly as far as figuring out exactly what the crowd wanted to hear!
Lacie: Wedding 10/19/2019
Great the whole night! John was so great to work with coming up to the wedding and also during the wedding. I gave him songs for the big moments and he came up with everything else for the night and did awesome. Highly recommend John if you need a DJ!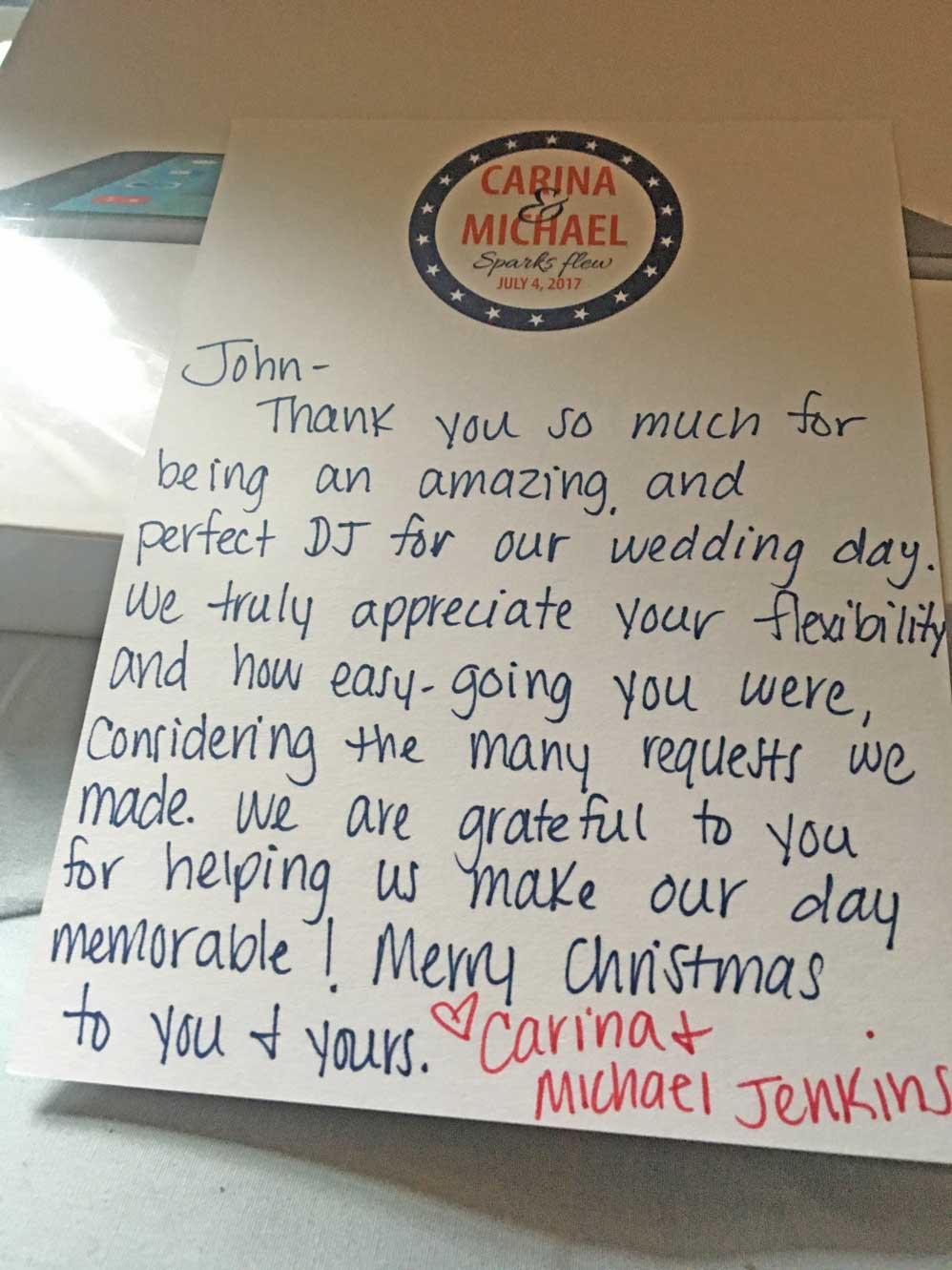 Jen: Wedding 6/10/2017
Very professional and generous. John is so easy to work with and eager to make your day special. John, I can't thank you enough to or express what a blast we all had!
Rhonda: Wedding 7/6/2017
I cannot say enough good things! He was very quick to respond to my phone calls and believe it or not I hired him from 8 hrs away. I planned my entire wedding from home in hopes that everything would be perfect when I arrived to my wedding at the beach. Everything was a hit thanks to John and my other vendors. His play list kept everyone dancing the entire time! He is an absolute laid back professional! I was completely comfortable with him!
Lee Ann: Wedding 9/14/2017
John was great! He read the crowd and played music that kept people on the dance floor. He didn't try to be the center of attention, he let the music keep the night going. John was easy to work with and helped us be stress free!
Erin: Wedding 10/15/16
John is great! ... He played the songs that we wanted as well as played songs to keep the party alive, let's just say I have never seen my Mom dance so much. ...
Dave: Wedding 11/20/2016
Put simply, John is as good as it gets. I had been to a number of weddings where John was the DJ, and I was always impressed by his ability to judge what would get people dancing, the way he helps the evening flow smoothly, and his absolute professionalism. So, when my daughter told us she was getting married, the first thing I did in preparation was to book John as the DJ. And in working with him, I was doubly impressed. If you are looking for someone with impeccable attention to detail, flexibility, and skill in making the event and the individual pieces of that event come together seamlessly, you have found the person you want.